The Pitfalls of a Boom and Bust Economy, and the Difficulty of Changing the Status Quo
Evaluation Lab News
Posted: Sep 25, 2019 - 12:00am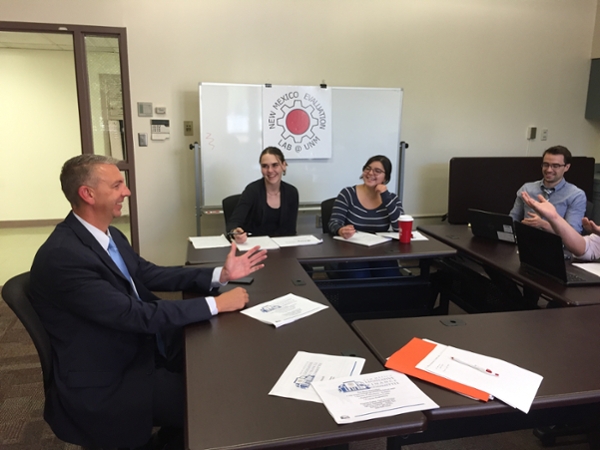 Charles Sallee, the Deputy Director of the NM Legislative Finance Committee, encouraged students to take a long view of government.
Reliance on oil and gas tax revenue subjects New Mexico to a boom and bust pattern, mirroring the nature of extractive industries, which boom when prices rise and collapse when prices fall.  During boom times, money pours into the government and, Mr. Salle argued, the urge to spend and cut back on other taxes is almost irresistible.  But tax cuts in boom times only increase reliance on the volatile extractive industry.
Mr. Sallee was the guest speaker at the MPP Policy Seminar on September 18.  Earlier that day, NM Governor Michelle Lujan Grisham had announced a plan to cover tuition for all resident students at New Mexico colleges.  The Governor's policy initiative comes at a time when New Mexico is pumping 350 million barrels of oil annually, compared to the historical average of 70 million barrels.  According to Mr. Sallee, there is danger in assuming that this is the new norm.
Mr. Sallee also discussed new funding for an extended school year, a legislative initiative in response to the Yazzie/Martinez vs. State of New Mexico lawsuit.  Ruling in favor of the plaintiffs in July 2018, the Court found that the state had failed to provide the "sufficient and uniform system of education" called for in the state's constitution. Despite evidence showing that extended time in school improves academic outcomes, school districts have been reluctant to lengthen the school year, an example of the how policy initiatives that challenge the status quo can flounder when it comes to implementation.