Join us for the Eval Lab Expo Webinar!
Evaluation Lab News
Posted: Apr 24, 2020 - 12:00am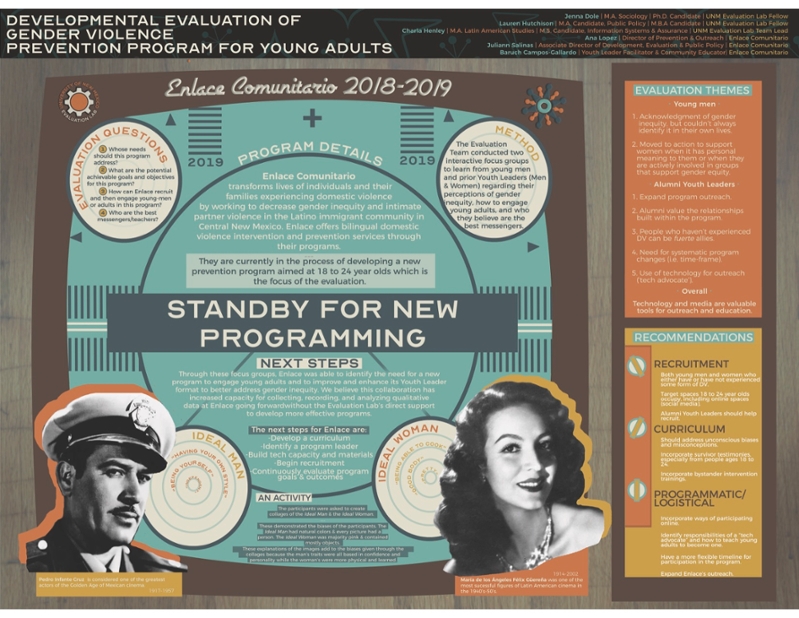 Every spring, the UNM Evaluation Lab hosts an event for the community to learn about our work to build evaluation capacity in local nonprofits.
Due to COVID-19, this year's Evaluation Lab Expo will be a webinar!
Join us online on Friday, May 8th from 3:00-4:30.
• View poster presentations that showcase creative evaluation approaches that can add value to your organization.
• Meet students and nonprofit leaders who have worked together in the Lab to make evaluation a useful tool for nonprofit work.
• Hear from a panel of community organizations on what it's like to work with the Evaluation Lab.
The UNM Evaluation Lab harnesses the analytical skills of academia for the service of community organizations in New Mexico through a variety of student and community training programs and collaborative program evaluation projects. In our Fellowship Program, graduate students receive training in a two-semester course that includes foundational learning in the classroom and a practicum involving a collaborative project with community organizations. In our Summer Institute and Learning Community, nonprofits develop evaluation plans and projects, and participate in monthly professional development sessions. Find out more here.