Evaluation Lab Hosts its 4th Annual Workshop
Evaluation Lab News
Posted: Apr 26, 2019 - 11:00am

The Evaluation Lab's 4th annual Workshop on April 12 brought community organizations and UNM students and researchers together to share the many ways to assess organizational effectiveness.
As in previous years, the highlight of the Workshop was a student poster session that put a variety of evaluation approaches on display.  Conducted in partnership with community organizations, this year's projects included consideration of Salesforce as a data solution for nonprofits and a demonstration of Tableau Prep, a new product that makes it ridiculously easy to move from a data source to a Tableau dashboard (PB&J); community focus groups to inform the development of new programs (Enlace Comunitario and the Embudo Valley Library); a long-term evaluation plan (Las Cumbres Community Services); and survey development informed by stakeholder interviews and focus group discussions (Centro Sávila and NM Primary Care Association). 
New this year was the debut of "Evaluation Lab:  The Musical," inspired by Hamilton and imagined by Senior Fellow Audrey Cooper.  The Musical introduced newcomers to the Evaluation Lab by highlighting programs and processes with audience testimonials.  Most of these were spoken, but Team Lead Amanda Bissell extolled the virtues of combining qualitative and quantitative data analysis with a call and response, and Enlace Comunitario Associate Director Jules Salinas performed a rap about evidence.
In his keynote address during lunch, Brindle Foundation Manager Kim Straus stressed the value of evaluation for learning about how to do your work better.  Knowing that you will evaluate your work makes you able to take risks, and taking risks is necessary for addressing the extreme need in New Mexico.
A panel of community organization representatives considered the Value of Evaluation. Evaluation Lab student Lauren Hutchison facilitated the discussion.  Juliann Salinas of Enlace Comunitario, Eileen Goode of the New Mexico Primary Care Association and Amanda Santiago of Centro Savila talked about how evaluation supports mission, fundraising, and the development of policy options.
Drs. Melissa Binder and Claudia Díaz Fuentes led a workshop on developing meaningful surveys.
The Center for Nonprofit Excellence co-hosted the event, which drew 54 people from the UNM and local nonprofit communities. 
Posters, photos and other Workshop materials are available on our Workshop Page.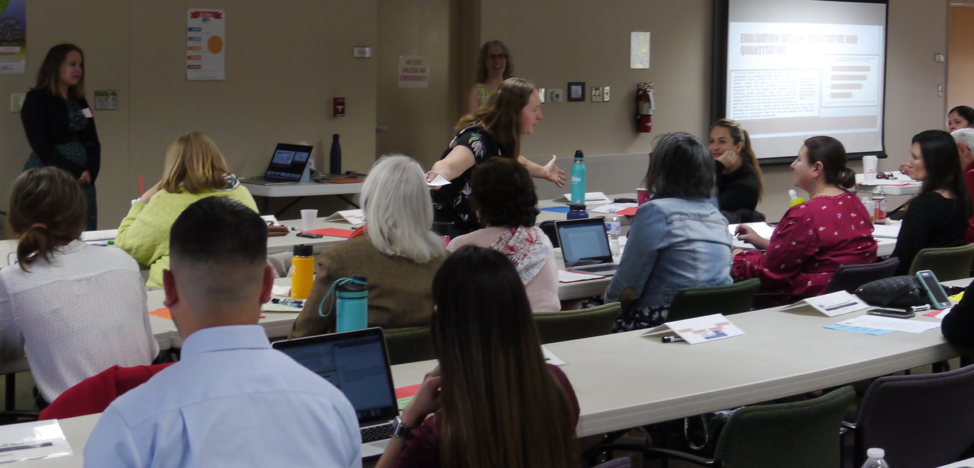 Photo credit: Vaughn West Fortier Shultz
Evaluation Team Lead Amanda Bissell leads the audience in a call and response about the value of combining qualitative and quantitative data at the 2019 UNM Evaluation Lab Annual Workshop.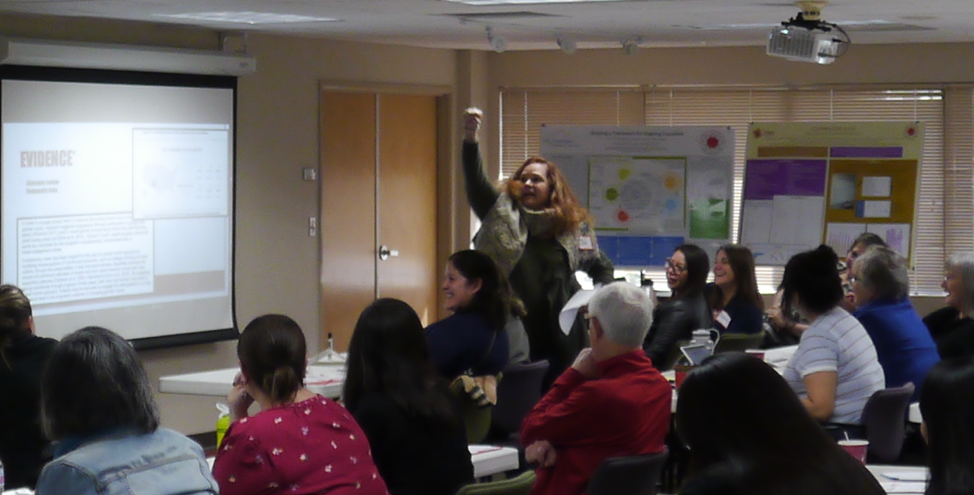 Photo credit: Vaughn West Fortier Shultz
Enlace Comunitario Associate Director Juliann Salinas raps about evidence, Hamilton style, at the 2019 UNM Evaluation Lab Annual Workshop.