Dr. Isaac Explains Qualitative Research
Evaluation Lab News
Posted: Oct 03, 2016 - 12:00am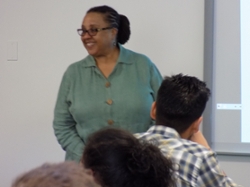 On October 3rd, 2016 Dr. Claudia B. Isaac of the UNM Community and Regional Planning Program and the New Mexico Learning & Evaluation Consortium gave a special guest lecture to the Evaluation Lab. Dr. Isaac, who is currently working to provide evaluation technical assistance to Kellogg Foundation grantees, is an expert in qualitative analysis.
"Qualitative analysis," Dr. Isaac explained, "is based in narrative, in related questions, and in stories. Narrative helps to explain and contextualize what the quantitative data tells you." Dr. Isaac described a meticulous method for gathering quantitative data based in careful revision of research questions and emphasized the attentive observation of what many might consider mundane--body language, attitudes, room atmosphere, etc. Her method is based in revision and openness to possibilities outside of the preconceived narratives brought to the evaluation. "Qualitative research is iterative... In qualitative research if you're not refining your question based on what you are learning then you are probably not doing good enough research."
By carefully gathering data an evaluator, like a detective, can piece a larger picture together. Eventually, Dr. Isaac explained, "...you feel you know enough to tell a story without presumption--you know enough to make a story that makes sense without having to fill in so many gaps in the story that you are making the story up."