Be Humble. Be Informed. Be Concise. Be Helpful: Scott Darnell on Advising Elected Officials.
Evaluation Lab News
Posted: Feb 26, 2021 - 12:00am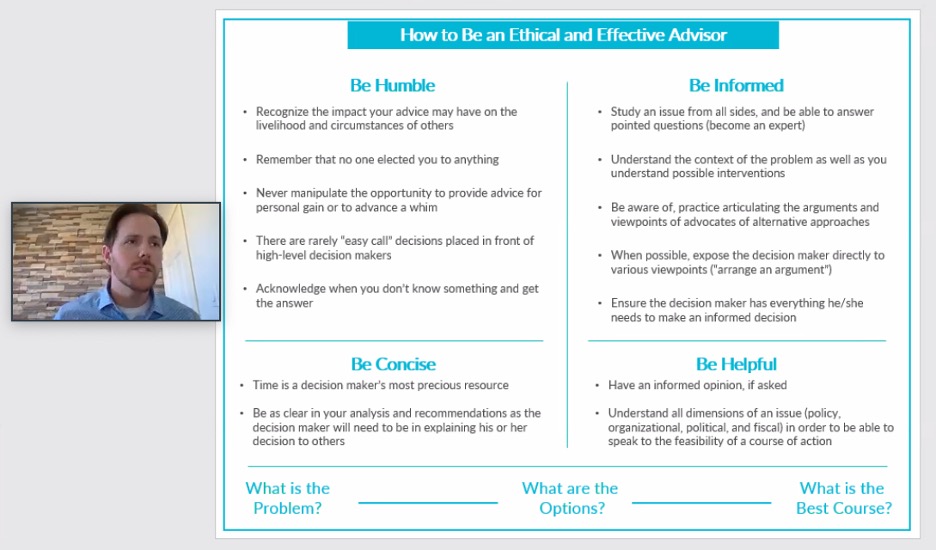 Scott Darnell addressed the MPP Policy Seminar this week on the topic of advising elected officials.  Now a senior policy advisor for the Greater Albuquerque Chamber of Commerce, Mr. Darnell previously served in the administrations of New Mexico Governor Susana Martinez and Albuquerque Mayor Richard Berry.   

Mr. Darnell recommends that policy advisors be humble, informed, concise, and helpful.

On being humble, advisors need to recognize first and foremost that their role is to serve the elected official, and not to promote their own ideas and agenda.  After all, no one elected the advisor!  An advisor should never take advantage of their position for personal gain, nor should they offer advice on a whim, since a stray idea could be adopted. Also, it's a terrible idea to guess in response to an official's question.  It's much better to say that you don't know and then to go find the answer. 

Being informed is also crucial. Depending on your job title, you can be tasked with knowing everything about one subject or knowing as much as you can about all subjects. You should also be knowledgeable about opposing points of view.  Mr. Darnell has found that taking the time to practice articulating the viewpoints of those who oppose a policy is extremely helpful for both anticipating—and appreciating—those who disagree with you. The elected official needs to know how the public is going to react to her decision. 

Being concise is especially important in this high information, fast paced world.  If you cannot explain the issue in 2 minutes or in 2 pages, you aren't doing your job.

Finally, advisors should be helpful.  If an elected official asks for a recommendation, don't say, "Gee, that's a tough one."   Consider the options and provide the best path forward, even if there may be controversy.

Mr. Darnell holds a Master of Public Policy from the Harvard Kennedy School.  He is a member of the UNM MPP Community Advisory Board.