A Passion for Policy
Evaluation Lab News
Posted: Sep 04, 2019 - 12:00am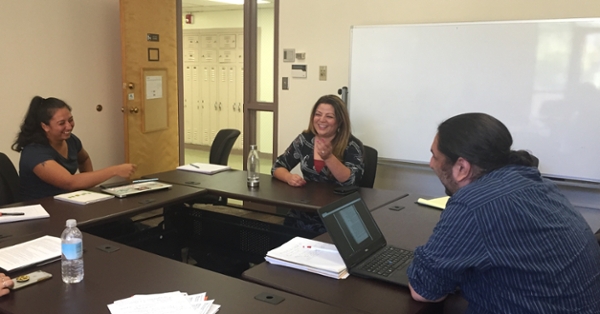 Ane Romero, a member of the MPP Community Advisory Board, shared her policy path with MPP students during the Policy Seminar on Wednesday. Ms. Romero thought she wanted to be a physical therapist when she started college at NM Highlands University, but she couldn't stay away from policy. She became the youngest student senator at Highlands in her freshman year, and taking a class on policy sealed the deal.
Ms. Romero is now Deputy Legislative Director in the Governor's office, where she helps to develop policy and shepherd the administration's initiatives through the legislature. Her team is currently working on proposals that would end childhood hunger in New Mexico.
Romero's passion is behavioral health policy, which was the focus of her MA thesis in Public Affairs at Highlands. Romero worked as a staffer for the Congressional Mental Health Caucus, and one of her first campaigns was to get May declared the Mental Health Awareness month.
Romero encouraged students to trust their knowledge about an issue to guide them in developing and promoting policy solutions, insisting that "there is no wrong way to do the right thing."
Romero also advised students to respond to setbacks as an opportunity for understanding how to proceed more effectively next time.