Second Annual Evaluation Workshop
Evaluation Lab News
Posted: Jun 07, 2017 - 12:00am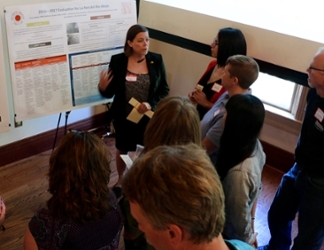 On Friday, April 21, the New Mexico Evaluation Lab @ UNM hosted its second annual Evaluation Workshop on the third floor of the beautiful Hodgin Hall Alumni Center.  About 30 representatives from non-profit community organizations joined 20 or so Evaluation Lab students, former students and staff to discuss the work Evaluation Lab member organizations had accomplished with the Lab since August of 2016.
More than any particular event hosted at the Workshop, the most incredible thing to witness was the sense of community that the Evaluation Lab Workshop fostered.  Representatives from the nine organizations that partnered with the Lab this year shared valuable knowledge and celebrated their successes.  Representatives from another 10 organizations learned about the great variety of approaches that can be used in program evaluation, and drew comparisons with their evaluation experiences.
Whether it was in the context of the poster sessions, where students shared information about the data collection and evaluation process different organizations underwent, in the panels on data systems used for evaluation and working with embedded evaluation systems, or during the breaks when community members conversed and got to know each other, the Workshop was filled with examples of people who were united by a common desire to improve their communities and find ways to monitor the effectiveness of their organizations' efforts. 
Presentations and more photos from the Workshop are available at Evaluation Lab @ UNM Workshop.
--Kiyomi Wilks