Melissa Binder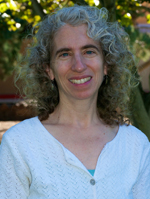 Director of the MPP and Associate Professor of Economics
Email: 

Phone: 

505-277-3548
Bio:
Melissa Binder has been a professor in the Department of Economics at the University of New Mexico since 1995 and the Director of the MPP since its inception in 2017. Her research and policy interests include labor market and educational equity, and among her publications are analyses of the motherhood wage gap, gender equity in faculty pay, and the socio-economic achievement gap in higher education. Dr. Binder founded and now directs the UNM Evaluation Lab, the goal of which is to train community evaluators and spread evaluation capacity to nonprofits throughout New Mexico.  Professional Experience
Melissa worked as a community organizer in Albuquerque in the mid-1980s, and later as a union representative in New York, where she saw first hand the limits of pursuing social justice in a context of economic inequality.  These experiences impelled her to pursue a Ph.D. in Economics.  Over time, she has become increasingly interested in applying her training in the service of New Mexico, both as a teacher, and by participating in policy-relevant projects at UNM and throughout the state.  Recent projects include:
Achievement Gaps in Higher Education
Curricular Innovations:  Melissa pioneered the "Success" model for introductory economics courses, in which one hour per week is devoted to active learning activities in small group "labs."  As Undergraduate Director of the UNM Economics Department, Melissa promoted changes in the curriculum that led to greater emphasis on writing, and she developed a new course that provides students with math, data analysis and writing tools that are expected to improve learning outcomes in core intermediate courses.  She also taught a "Community Economics Lab," in which students performed economic analyses for contemporary state policy issues.
Along with colleague Kate Krause, Melissa brought $1.2 million in scholarship aid to UNM students as part of a national financial aid experiment to determine whether aid tied to academic performance can improve college outcomes for low-income students.
Several of her scholarly works explore the incentive and distribution effects of New Mexico's Lottery Success Scholarships, which pay tuition for New Mexican high school graduates who meet certain college performance requirements.
Early Childhood and K-12 in New Mexico
Melissa worked with Becky Kilburn of RAND and the New Mexico Sentencing Commission to assist a local social services agency in tracking its clients' outcomes.  She has also participated in evaluations of early childhood interventions for Taos Health Systems and of the impact of arts education for Partners in Education Partners in Education Foundation for the Santa Fe Public Schools. 
Pay Equity
Melissa co-authored a report and several publications with Economics department colleagues on pay equity for UNM faculty.  This work led to significant equity adjustments for women and minorities.
Education
Ph.D., October 1995, Columbia University, New York City, New York, Economics.
M.A., October 1992, Columbia University, New York City, New York, Economics.
B.A. cum laude, May 1984, Yale University, New Haven, Connecticut, Philosophy.